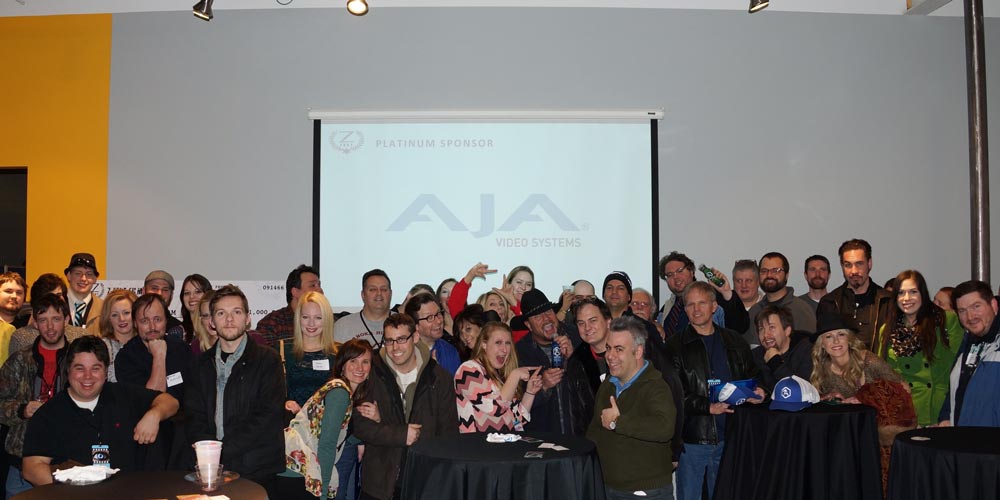 Why would my organization want to become a sponsor?
A great way to reach local audiences

Local advertising is a challenge. The cost of 'traditional' radio, tv, and print ads can be prohibitive. Through a combination of ads in our program, your logo on the big screens of the theater, and our strong social media presence, you will be able to reach thousands of potential customers for a very modest price – and it isn't just a one-time opportunity. For examples, all the films are available for viewing on www.z-fest.com – complete with the sponsor logos from that year. Studies show consumers are more likely to support organizations that are involved in the local community. Community support also helps build a positive brand image. The independent film community is a passionate, loyal group that really comes out and supports the sponsors.

Z-Fest by the numbers:
At Z-Fest V 2017:
45 teams (Over 200 people) entered the festival
2,000+ tickets were sold to theater screenings
2,800 'likes' on Z-Fest's Facebook page
$17,000 in prizes were awarded
400 people attended the gala awards ceremony at the Radisson Blu the Mall of America
5 sponsors presented at the awards ceremony
60,000 page views on Facebook
How much does it cost?
There are several levels of sponsorship:
Sponsorship Level
PLATINUM
$3,000
GOLD
$1,000
SILVER
$500
Bronze
$250
Large Logo Placement (Website, Film Credits, and Program)
X
 
 
Medium Logo Placement (Website, Film Credits, and Program)
 
X
 
Small Logo Placement (Website, Film Credits, and Program)
 
 
X
X
Personal Mention and Recognition at Kick Off Party for Teams
X
X
X
X
Company Literature in Team Packets
X
X
 X
X
Facebook Post As a Sponsor on Z-Fest Web Site
X
X
X
X
The Shout Out
Product placement on a budget
Fest offers a unique opportunity for sponsors to be featured in the actual films. Film makers can choose to take the sponsor challenge and make a product placement somehow in their film and compete against other film makers that also choose to promote the sponsor. The sponsor will review all the films that contain a 'Shout Out' to their product and select the one they like most. Last year 15 teams featured a Shout Out in their films. Visualize characters hanging out drinking Coca-Cola, or riding in a Honda. Your product or brand could be highlighted right in the films. Sponsors choose the amount of the award which will be presented to the winning film at the award gala. Shout Out Award: $500 minimum, and at least a Silver level sponsorship In Kind Sponsorship Z Fest welcomes support in the form of products or services in lieu of a cash sponsorship. We have had food & beverage sponsors, goods offered as prizes, local providers donating services. The value of the goods will determine the sponsorship level and level of recognition.
For more information, contact sponsors@z-fest.com or call Z Systems at 952.974.3140